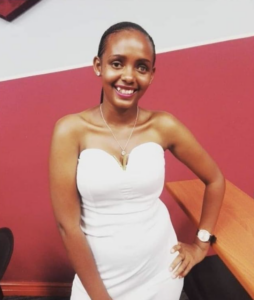 In a remarkable achievement that resonates with the spirit of perseverance and determination, Ms. Rowena Dinah Koloi, a shining star within the Botswana International University of Science and Technology (BIUST) community, has been honoured with the prestigious Best Youth Living with Disability award at the Botswana Youth Awards. This accolade stands as a testament to her unwavering commitment to empowerment, advocacy, and making a positive impact on her community.
Ms. Koloi's journey was nothing short of inspiring. Battling the challenges brought on by keratoconus, a corneal disorder, she has navigated life's obstacles with unparalleled resilience. Through sheer determination, she has emerged as a beacon of hope for countless others facing similar challenges. Holding a BCom in Real Estate, Ms. Koloi currently serves as an Estates Assistant at BIUST, showcasing her dedication and professionalism in her chosen field.
Beyond her professional achievements, Ms. Koloi's indomitable spirit has led her to become a published author with her motivational book titled; "A Walk to Remember: Disability is not Inability." Drawing from her personal journey, the book serves as a source of inspiration for individuals striving to transcend their circumstances and embrace their true potential.
One of Ms. Koloi's remarkable endeavors is her role as the founding Director of Abilities Expo, an annual exhibition designed to empower young people with disabilities. The event provides a platform for showcasing diverse talents, from music and arts to crafts and entrepreneurship, highlighting the limitless potential within the disabled community.
Ms. Koloi's leadership extends to her role as the chairperson of the Network of Young People with Disabilities, where she passionately advocates for the representation of young individuals with disabilities in various policy and programming platforms. Her influence has reached regional and continental stages, including participation in the UNFPA Flagship program and the African Disability Forum's leadership program.
Reflecting on her journey, Ms. Koloi emphasizes her determination to challenge society's negative perceptions about disabilities. "Every day of my life is an opportunity to educate one person," she affirms, embodying her commitment to altering the narrative and promoting inclusivity.
Botswana's recent ratification of the Convention on the Rights of Persons with Disabilities presents a significant turning point. As the country strides forward in mainstreaming disability into policies and structures, Ms. Koloi emphasizes the importance of targeted interventions and support to ensure that individuals with disabilities can achieve their full potential.
With a heart full of compassion and an unwavering drive to make a difference, Rowena Dinah Koloi stands as a true inspiration, redefining the boundaries of possibility and reminding us all that disabilities do not define limitations but rather to serve as a wellspring of unique strengths. Her journey is a beacon of hope and empowerment, illuminating the path toward a more inclusive and compassionate society.
For those seeking inspiration, Ms. Koloi's words resonate deeply: "There is absolutely nothing wrong with having a disability. It doesn't make you less human. Get up every morning and live beyond those limitations and barriers that have been put before you because you are able."
As she continues her impactful journey, we eagerly anticipate the positive changes and transformative initiatives that Ms. Koloi will undoubtedly bring to the world.