Botswana is a landlocked country located in Southern Africa, north of South Africa. Botswana occupies an area of 581,730 square kilometres, of which 566,730 km² are land.
There are several Ports of Entry into Botswana depending on where you are coming from and your mode of transport. The most commonly used Ports of Entry, if you are entering Botswana by road, are Ramokgwebana (Botswana/Zimbabwe), Tlokweng and Ramatlabama (Botswana/South Africa), Mamuno (Botswana/Namibia) and Kazungula (Botswana/Zambia). You can go to www.gov.bw to view the operating times and additional Ports of Entry.
The Sir Seretse Khama International Airport is situated in Gaborone for those who may be coming by Air. There is also an airport in Francistown and sometimes there are flights that fly directly to the City from neighbouring countries.
The Botswana International University of Science and Technology (BIUST) is situated scenically in Khurumela ward, South East of Palapye in the Central District of Botswana. Palapye is found halfway between Francistown and Gaborone (168.7 km) from Francistown, 271.1 km from Gaborone and nearly 70 km north of the Tropic of Capricorn, by the Lotsane River. BUIST is the nation's second university. It sits in a 2,500-hectare site of gently sloping land on the outskirts of Palapye.
This place is situated in Palapye, Central Region, Botswana, its geographical coordinates are 22° 33′ 0″ South, 27° 8′ 0″ East.Click here for a Google Map
Palapye lies on the main A1 Highway, which connects Botswana's two major cities, Gaborone and Francistown. There is a secondary road that leads to Serowe, and further, Orapa and Letlhakane. Palapye is situated 271.1 km and 168.7 km via A1 from Gaborone and Francistown respectively. If travelling from the north, i.e. Ramokgwebana and Kazungula Entry Points you will have to travel via the A1 road towards the South.
Taxis are the most reliable mode of transport in Palapye. To get to BIUST one board a taxi at the Palapye taxi point, found within Palapye bus Rank.
Cycling is another, cheap and environmentally friendly way to travel to the BIUST campus.
There are regular shuttle buses to pick up and drop off students at various points around the campus and Palapye.
| Time | Destination |
| --- | --- |
| 0700 hrs | Palapye Busrank to BIUST Campus |
| 1000 hrs | BIUST Campus to malls |
| 1300 hrs | BIUST Campus to malls |
| 1600 hrs | BIUST Campus to malls and Busrank |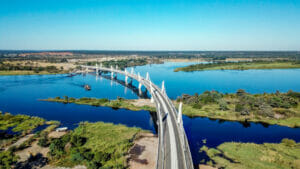 The Famous Kazungula Bridge
Elephant Ivory at SSKA Airport
How to reach Palapye if you in Botswana