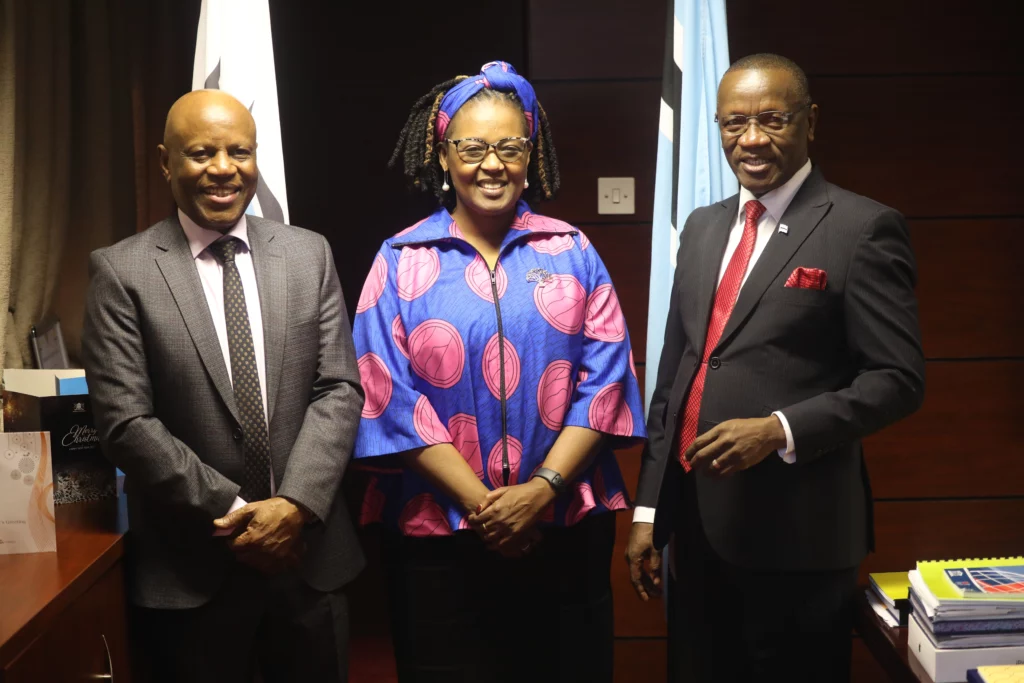 In a display of continued commitment to fostering strategic collaborations and advancing their shared mission, the Botswana International University of Science and Technology (BIUST) welcomed the recently appointed Central University of Technology (CUT) Vice-Chancellor, Professor Pamela Dube, and her delegation on a courtesy call. The visit served as a reaffirmation of the strong partnership established between the two institutions through a Memorandum of Understanding in 2019.
BIUST's Vice-Chancellor, Professor Otlogetswe Totolo, began the meeting by congratulating Professor Dube on her historic appointment as the first female Vice-Chancellor of CUT. He acknowledged that both universities, being STEM-focused, hold a significant responsibility in driving economic and social transformation in their respective countries. The meeting provided an ideal platform to explore avenues for collaboration that can yield fruitful results.
Highlighting the importance of serving the communities they operate within, Professor Totolo stressed that joint activities between CUT and BIUST should aim to forge cross-border business and cultural ties, benefiting both individuals and government relations. He emphasized the need for universities to continuously evolve their academic delivery methods to remain relevant and impactful in today's dynamic world.
"The trend in universities is moving towards partnerships that leverage on complementary strengths," Professor Totolo said. He expressed the importance of close collaboration between the two institutions to optimize the use of limited resources, fostering a culture of success in research, teaching, and learning.
Professor Totolo believed that as institutions of higher learning, CUT and BIUST are well-positioned to lead the economic development agenda of the Southern African Development Community (SADC) and Africa as a whole, harnessing their research talents and academic output to drive progress.
The ongoing partnership between CUT and BIUST exemplifies the power of collaboration in driving economic and social progress. By leveraging their complementary strengths and shared vision, both institutions are poised to play pivotal roles in the development of a knowledge-based economy and society, not only in their respective countries but across the SADC region and the continent.
Professor Dube commended BIUST for their rapid successes and acknowledged the mutual understanding the institutions share regarding the importance of global engagement and a student-centric approach. She encouraged BIUST to not only focus on research and technology but also prioritize campus life and staff welfare, ensuring a holistic and supportive environment for all stakeholders.
Both Vice-Chancellors emphasized the significance of partnerships in addressing global challenges, particularly in finding homegrown solutions for African issues while fostering international engagement. They stressed the importance of instilling an entrepreneurial mindset in students, preparing them to be innovative leaders and problem solvers.
The Deputy Vice-Chancellor, Professor Elisha Shemang, emphasized that BIUST depends on the expertise of others to propel and develop the university further. As a technology-driven institution, they expressed their willingness to learn from CUT while also collaborating on mutual development.
The visit concluded with a tour of BIUST's facilities, allowing the CUT delegation to appreciate the resources and potential for collaboration between the two institutions.