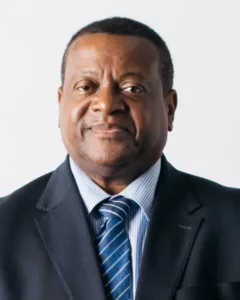 Deputy Vice Chancellor
Research Development & Innovation
Professor Abraham Atta Ogwu is a British citizen appointed as Deputy Vice-Chancellor for Research, Development and Innovation at the Botswana International University of Science and Technology (BIUST), Botswana in April 2021. He is a Fellow of the U.K. Institute of Physics (FinstP) and served on the fellowship election panel of the institute (2007-2011). He is also a Fellow of the U.K. Institute of Materials, Minerals and Mining (FIMMM). Professor Ogwu acts as an external assessor for Professorial appointments in the U.K and overseas. He also acts as an assessor for many international research-funding agencies including Mitacs, Canada.
He was previously the Vice-Rector/Vice-President (Deputy Vice-chancellor in the U.K) for internationalisation at the D. Serikbayev East Kazakhstan State Technical University, Ust-Kamenogorsk, Republic of Kazakhstan (www.en.ektu.kz) from February 2019 to March 2021. He was also a Professor in the School of Engineering and Computing at the University of the West of Scotland, Paisley Campus, from 2002 to 2018. He was a member of the governing council (Court in Scotland) and the policy and resources committee of the former Paisley University (now the University of the West of Scotland) from 2005 to 2008.
As a venture capitalist and an executive at several start-ups, he was one of the nominated representatives by the governing council of the former University of Paisley (now the University of the West of Scotland) in the successful negotiations leading to the re-development of the Ayr Campus from the Scottish Funding Council (SFC) and also a representative on the campus merger business plan presented to the SFC to create the University of the West of Scotland from the old Paisley University.
Furthermore, he also worked as Rector/vice-chancellor of an overseas government vocational University in Africa, (On leave of absence from Scotland, 2008-2010), which became a member of the prestigious Association of commonwealth universities during his tenure as head of the institution. He also previously held academic appointments at the School of Materials, University of Manchester, England, U.K (1994-1998) and School of Engineering, University of Ulster, Northern Ireland, U.K (1998-2002), where he was also a Campus Warden of student residences in the university.
Professor Ogwu was a visiting scientist in the department of materials science and Engineering at the University of Toronto, Canada, hosted by Professor Tom Coyle in 1998 and a visiting Professor in the Mechanical Engineering department at the University of Aveiro in Portugal hosted by Professor Jose Gracio in 2003/2004. He has managed industrial and research council funded research projects jointly with leading international industries and organisations. Along with his notable writing career, he has authored/co-authored well over 100 refereed journal and scientific conference proceedings and monographs in leading high impact factor journals. He earned a BSc (Hons) in Engineering Physics from the University of Ife (now OAU), Nigeria in 1982, MSc in Metallic and Ceramic materials in 1986 from Manchester University, England, U.K. and PhD in Materials Science and Engineering from Manchester University, England, U.K in 1994. He completed executive management education at the MIT Sloan School of Management in 2011.
In addition, Professor Ogwu attended the Universities management development course for University administrators, held in New College, Oxford University, England, U.K. in 2005 and the Higher Education futures, A strategic approach to dynamic markets workshop in April 2006, which took place at Selwyn College and Law faculty, Cambridge University, England, U.K, organised by the knowledge partnership, U.K.